Ever since the release of 'It', it seems like Pennywise is the only thing everyone can talk about, everything from his terrifying smile to his disturbing backstory.
But, someone came up with a genius way to make the creepy clown a little less creepy, and will probably help people who are scared of Pennywise to sleep a little better at night.
A Twitter account, appropriately called Pennywise Dancing, is all about finding humour in horror. Remember that terrifying scene from the movie where Pennywise the clown (Bill Skarsgård) dances in an attempt to terrify one of the main characters, Beverly (Sophia Lillis).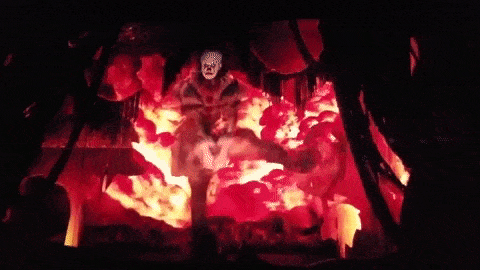 Someone saw that clip of him dancing and just ran with it. It turns out that Pennywise's unique dancing can work with just about any work, and this account has all the proof you need.

1. Better than Taylor Swift, tbh.

Shake It Off! pic.twitter.com/hp1VSTKxHv

— Pennywise Dancing (@Pennywise_Dance) September 21, 2017

2. Well, he's blue.

I'm Blue #ITMovie pic.twitter.com/YIeoyy4QoR

— Pennywise Dancing (@Pennywise_Dance) September 12, 2017

3. Life is plastic, it's fantastic.

Barbie Girl #ITMovie #ItMovie2017 pic.twitter.com/VCpyDx3GW6

— Pennywise Dancing (@Pennywise_Dance) September 12, 2017

4. Crazy Frog, obviously.

Crazy Frog pic.twitter.com/gUmUASlJLt

— Pennywise Dancing (@Pennywise_Dance) September 14, 2017

5. Take him on.

Take On Me #ITMovie pic.twitter.com/ssZi3jUqMB

— Pennywise Dancing (@Pennywise_Dance) September 14, 2017

6. Can you?

Can you feel the love tonight? ... pic.twitter.com/aInfOQE1Kt

— Pennywise Dancing (@Pennywise_Dance) September 12, 2017

7. Obviously, he can dance to the Village People.

YMCA #ITMovie pic.twitter.com/Q5bA1fJ8Qo

— Pennywise Dancing (@Pennywise_Dance) September 12, 2017

8. Cotton Eye Joe, for sure.

Cotton Eye Joe pic.twitter.com/nCiSk4c2Iz

— Pennywise Dancing (@Pennywise_Dance) September 12, 2017

9. Even Come On, Eileen.

Come on, Eileen! #ITMovie #IT pic.twitter.com/gBpZyleKvV

— Pennywise Dancing (@Pennywise_Dance) September 12, 2017

10. Pharrell would be happy with this. Maybe.

Happy! #ITMovie pic.twitter.com/8inH70AIcP

— Pennywise Dancing (@Pennywise_Dance) September 21, 2017

11. What happens when you touch It.

Everytime We Touch #ITMovie #IT #ItMovie2017 pic.twitter.com/oZrFSh46eQ

— Pennywise Dancing (@Pennywise_Dance) September 12, 2017

12. And, he can definitely dance to The Macarena.

The Macarena! pic.twitter.com/LZ4AOhRddi

— Pennywise Dancing (@Pennywise_Dance) September 21, 2017